A new season is rapidly approaching and we are full throttle to get prepared. This week I have been at Sebring International Raceway testing with the team I will be racing with this season. And, as many of you have seen, I have a new home for 2023. So with three weeks left in the off-season before St Pete the first weekend of March, I am happy to kick things off by announcing I will be racing in the USF Pro 2000 Championship Presented by Cooper Tires with Turn 3 Motorsport!
I had the opportunity to race for team owner Peter Dempsey's Dad, Cliff, with Low Dempsey Racing over in England a few years ago as part of the Team USA program and I enjoyed racing with them and am excited to get to race for Peter in 2023. The team and I have worked well together in testing and I believe we will have a strong program this season.
This is a step up for me as I will be transitioning from USF 2000 to USF Pro 2000. This car has more power and downforce as well as typically a more competitive field. There are drivers with FIA F3 and F2 experience, the runner-up in last year's British F3 Championship and multiple returning race winners from last season.  It will also likely be the largest field in the series in quite a few years.
The USF Pro 2000 car (the series was labeled Indy Pro 2000 last year and is only two steps below INDYCAR) requires more commitment and quicker cornering speeds and has been a super fun car to drive. I can't wait to get to my first race event in this car. As I mentioned, I have been testing this past week to get ready for the season opener at St. Pete and also our second event weekend, also at Sebring. The team has been doing a great job helping me get up to speed and learn the new car. This series is super competitive and nothing will be given to me, but I am confident that we can put together some good results throughout the season.
It has been a lot of hard work to put our program together (with still some more work to do). I am happy to welcome back some amazing partners as well as new partners who are giving me the opportunity to compete this season. Thanks to the Indiana University Melvin and Bren Simon Comprehensive Cancer Center for returning as my lead primary sponsor along with supporting primary partners Browning Chapman Specialty Contractors and Prime 47 (it's not a coincidence I'm now #47). Caldwell Realty and Caldwell Subways of Hobart and Valparaiso have helped since I was early on in karts and will always be a part of our program. SPRUCE Cold Brew Cowffee is working on a new production model and we will let everyone know when they are back in stock.  Brent Cox at CG CPA's, Fastimes Indoor Karting, High Alpha and Tnemec/Indiana Coating Specialists have also always been great friends and supporters along with a few others who prefer to remain unnamed.
I'd also like to thank Don Cusick and his team at Cusick Motorsports for adding me as a development driver. We'll be working with his Indy 500 partners for Stefan Wilson, including LOHLA Sport and you'll learn more about them and others moving forward.
And last but not least is Race for RP and AutoImmunity Racing. I am grateful to have a platform to raise money and awareness for the IU Simon Comprehensive Cancer Center (we have big plans in April and May) and Race for RP/AutoImmunity Racing.  Both are special causes to me and my family.
To kick off the season, we are giving friends and fans a chance to place a name on my car for St Pete and Sebring for a $100 donation to Race for RP! For $500, you can send a unique logo of your company.  100% of the money goes to Race for RP to fund autoimmune disease research and education.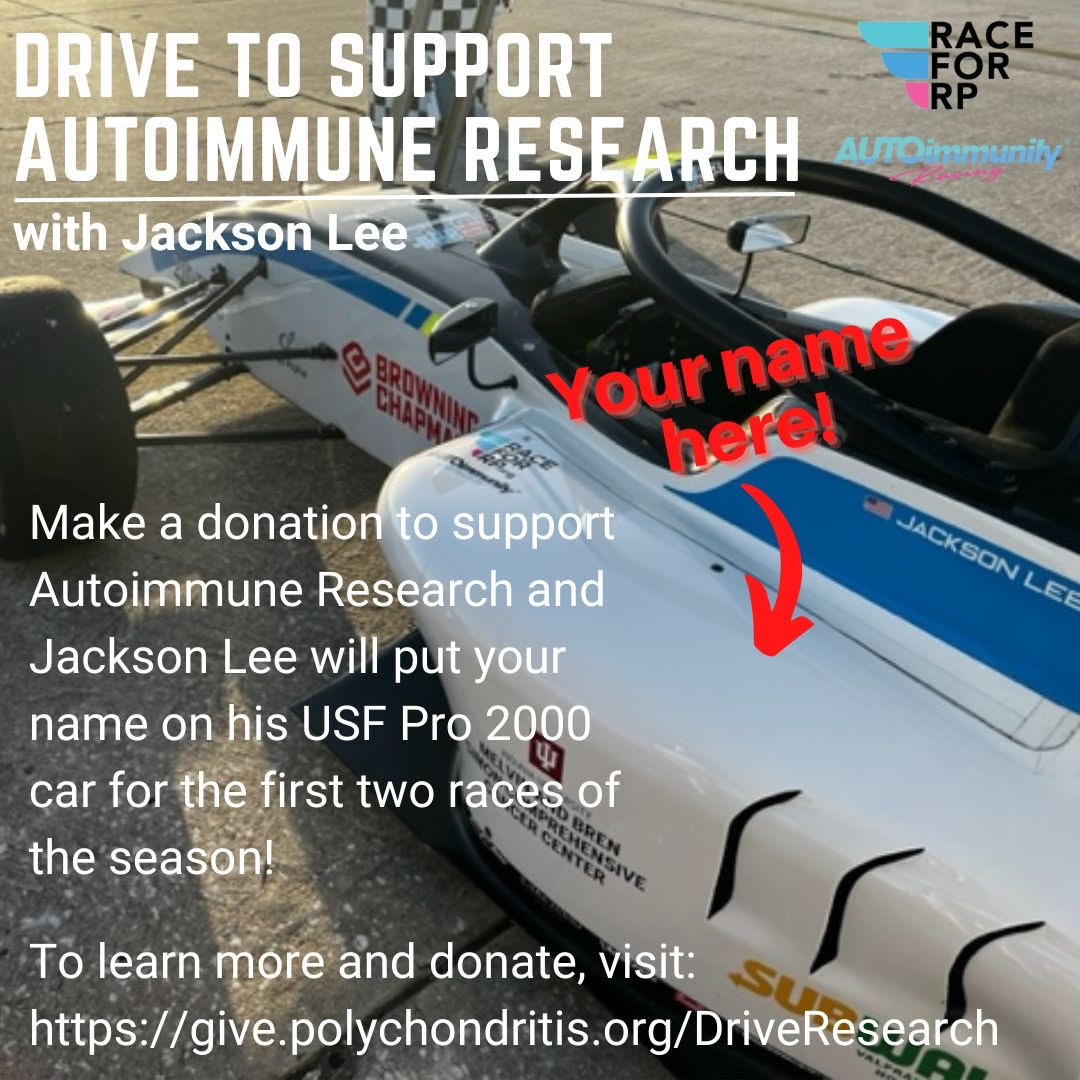 You can make your donation by clicking HERE.

To make it on the car by St. Pete, the deadline is Wednesday February 22nd.  Thank you in advance. 
The season is coming up fast and I hope to see you at the track soon!
Stay fast,
Jackson